How to Clean Leather Seats

There are many reasons why Livingston drivers choose to purchase a vehicle with leather seats. Leather seats feel more luxurious than cloth, but more care is necessary to keep the leather in pristine condition. Ensure proper leather seat care with these helpful tips from Acura of Baton Rouge.
How Do You Keep Leather Seats in Good Condition?
Vacuum Your Seats: Dust, dirt, and debris can actually cause damage to your leather seats so it is important to vacuum the crevices of your seats to get rid of any damaging materials.
Clean Your Seats: Use a pH-neutral cleaning solution with a microfiber cloth and soft-bristled brush to gently clean the leather upholstery. If you have perforated leather seats, you will want to take extra care to avoid getting any liquid cleaner into the perforations.
Condition Your Seats: Use a leather conditioner and microfiber cloth to condition the seats.
Protect the Leather: In addition to conditioning the leather seats, try to avoid parking in direct sunlight around East Baton Rouge.If possible, park under a tree or in a garage when you can.
What Cleaning Products Should Be Used?
You should use a colorless, simple damp rag to lightly dust your car seats in Ascension. If your seats need a more thorough cleaning, you can use warm water with a bit of soap or a specially made leather cleaner to wipe down the seats. You may find recommendations from the manufacturer in your owner's manual. It can also be beneficial to do a little research on what the best type of leather conditioner is for Acura seats.When cleaning leather seats, there are some products that should be avoided so that you do not damage the leather. For proper leather seat care, do not use the following items:
Sharp objects that can cause scratches
Household cleaner
Dark cloths
Detergents
Furniture polish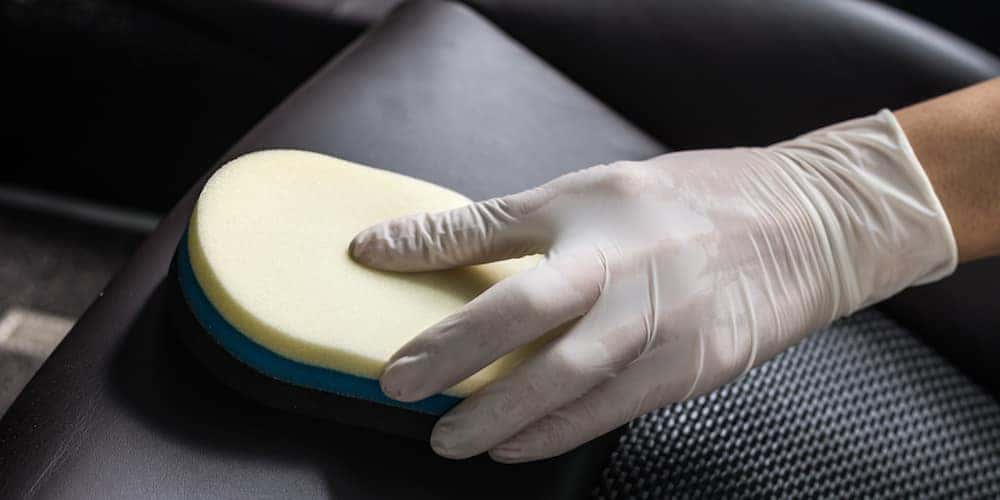 Want to Know More About Cleaning Leather Car Seats?
If you would like more information on how to care for your leather seats in your Acura vehicle, the team at Acura of Baton Rouge would be glad to assist you. Contact us today if you have any questions, or stop by the dealership in person. We would be glad to answer your inquiries from oil change frequency to learning how to how to rotate tires, how to remove corrosion from a car battery, or how to use paddle shifters.
---
Explore Our Models
The 2021 Acura ILX not only has a striking exterior that is sure to impress you, it boasts some incredible space inside of this sedan. Not only does the Acura ILX have a great deal of length, but it also has plenty of space for running errands around East Baton Rouge. Whether you need plenty of cargo…

If you're looking to take on East Baton Rouge roads behind the wheel of a stunning luxury sedan, then the 2021 Acura TLX lineup delivers on all fronts. With a great selection of luxury packages with top technology, performance, and safety capabilities, there's a configuration perfect for your family with the new 2021 TLX. Learn more about…

There's lots of reasons to take the 2021 Acura RDX out for a test drive in Baton Rouge. Between its luxurious interior to zippy performance, this SUV has some of the most exciting features of any 2021 vehicle. One highlight of this vehicle's capability is the 2021 Acura RDX towing capacity, which goes up to 1,500…
---
Explore Our Models
The 2021 Acura ILX not only has a striking exterior that is sure to impress you, it boasts some incredible space inside of this sedan. Not only does the Acura ILX have a great deal of length, but it also has plenty of space for running errands around East Baton Rouge. Whether you need plenty of cargo…

If you're looking to take on East Baton Rouge roads behind the wheel of a stunning luxury sedan, then the 2021 Acura TLX lineup delivers on all fronts. With a great selection of luxury packages with top technology, performance, and safety capabilities, there's a configuration perfect for your family with the new 2021 TLX. Learn more about…

There's lots of reasons to take the 2021 Acura RDX out for a test drive in Baton Rouge. Between its luxurious interior to zippy performance, this SUV has some of the most exciting features of any 2021 vehicle. One highlight of this vehicle's capability is the 2021 Acura RDX towing capacity, which goes up to 1,500…