How to Rotate Tires Yourself

Rotating your tires on a regular basis is a necessary maintenance task you don't want to avoid. Properly rotated tires can provide you with better traction on East Baton Rouge roads and extend the life of your tires. Whether you choose to bring your Acura to the Acura of Baton Rouge service center for a tire rotation, or you prefer to do vehicle maintenance yourself, it's important to keep up with this task. Follow our guide on tire rotation to keep your tires rolling for as long as possible.
Why is Tire Rotation Necessary?
Depending on how and where you drive, the tires of your vehicle do not wear at the same rate. Because of the impact they experience while turning, the outside edges of the front tires show greater wear while the rear wheels wear more evenly. If you do not rotate your tires, they will not wear evenly, so it is likely that they will need to be replaced sooner.
How Often to Rotate Your Tires
If you have a front- or rear-wheel drive vehicle, your tires will need to be rotated after approximately every 5,000-7,500 miles. If you have an all-wheel drive vehicle, you will need to perform this task more frequently, usually after every 3,000-5,000 miles. Why do AWD vehicles require this service more often? Since the tires are actively engaged all the time, they will wear faster. Be sure to consult your owner's manual to check the recommended intervals for your specific make and model.
Tire Position
FWD Tires: You can move the front tires to the back of the car in the same left/right positions. When moving the rear tires to the front, remember to swap the left and right tires.
RWD Tires: If you have a RWD vehicle, the opposite is true. The rear tires can be moved to the front of the car on the same side as they were. As you move the front tires to the rear, you will need to switch sides.
Rotating Your Tires
If you would like to perform your own tire rotation, you will need a car jack stand, lug nut wrench, and a set of car jacks. Once you have acquired the necessary tools, all you have to do is follow the steps below:
Make sure the parking brake is engaged for added security.
Loosen the lug nuts on all four wheels, but be sure that you don't fully take them off. It will be much easier to unscrew them when the tire is elevated.
Lift up one wheel with a car jack and place the jack stand underneath it.
Remove the tires one by one.
This is a great time to check your tire pressure. Once your tires are properly inflated, you can rotate them according to the appropriate pattern for your type of tires. Place the tire back onto the wheel mount and screw the lug nuts on by hand as much as you possibly can.
Lower the car from the jack stands. Finish tightening the nuts with the lug nut wrench. To ensure even tightening, work diagonally from one lug nut to another in a star pattern. The brake rotor can warp if the lug nuts aren't tightened evenly.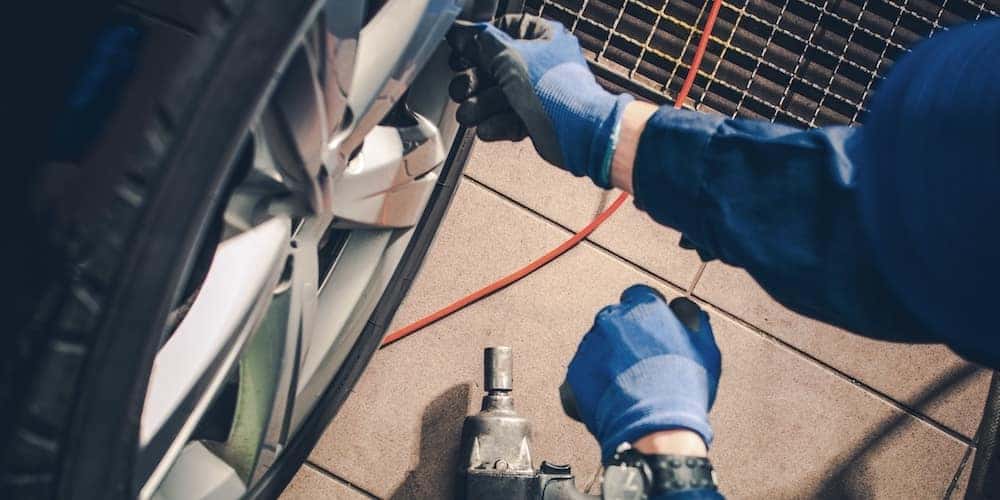 Get Help With Tire Rotation from Acura of Baton Rouge
Not ready to rotate your tires yourself? No worries! The team at Acura of Baton Rouge would be glad to assist you with this essential maintenance task. Contact us today, or fill out our online form to set up your appointment. Make us your go-to Livingston-area dealership for all of your car service needs. You can also learn more about how to remove corrosion from a car battery, how your tire pressure monitoring system works, how to use paddle shifters, or how to clean leather seats.
Explore Our Models
The 2021 Acura ILX not only has a striking exterior that is sure to impress you, it boasts some incredible space inside of this sedan. Not only does the Acura ILX have a great deal of length, but it also has plenty of space for running errands around East Baton Rouge. Whether you need plenty of cargo…

If you're looking to take on East Baton Rouge roads behind the wheel of a stunning luxury sedan, then the 2021 Acura TLX lineup delivers on all fronts. With a great selection of luxury packages with top technology, performance, and safety capabilities, there's a configuration perfect for your family with the new 2021 TLX. Learn more about…

There's lots of reasons to take the 2021 Acura RDX out for a test drive in Baton Rouge. Between its luxurious interior to zippy performance, this SUV has some of the most exciting features of any 2021 vehicle. One highlight of this vehicle's capability is the 2021 Acura RDX towing capacity, which goes up to 1,500…